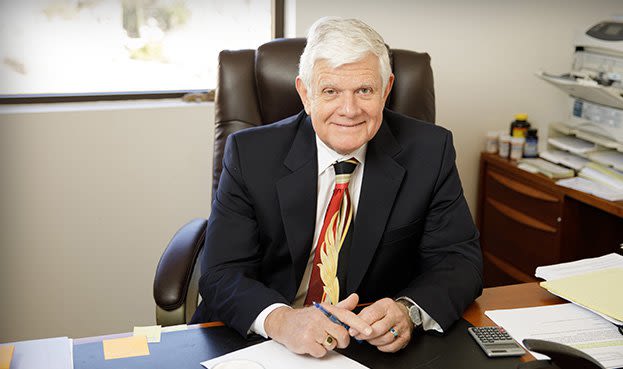 Roger D. Wintle is a founding shareholder of The Heritage Law Group, A P.C. and has over thirty-five (35) years of experience. Mr. Wintle received his undergraduate education from San JoseState University and advanced degrees from the University of North Dakota and the University ofBridgeport. He received his law degree from the University of San Diego School of Law in 1982. Mr. Wintle began his legal career in Dallas, Texas in 1982, where he was an associate and later apartner with Shank, Irwin & Conant. His practice at the time included high value asset and realestate transactions. Mr. Wintle subsequently joined the Dallas, Texas office of Finley, Kumble,Wagner, Heine, Underberg, Manley, Myerson & Casey, a national law firm with headquarters inNew York City where he continued his real estate practice.
Mr. Wintle moved to California in 1989 where he joined the San Jose law firm of Ferrari, Alvarez,Olsen & Ottoboni, first as an associate and later as a partner. Mr. Wintle, continued his real estatepractice.
In 1995, Mr. Wintle and Terence Kane formed the law firm of Wintle & Kane, LLP and that firmsubsequently merged with The Heritage Law Group, a P.C. in 2003. As a partner in The HeritageLaw Group, Mr. Wintle expanded his practice to include business formation, general counsel ser-vices, intellectual property litigation, and general litigation.
Mr. Wintle has practiced in numerous areas of the law including, real estate, intellectual property,business formation and general counsel services, construction, environmental laws, commercialand residential leases drafting and review, and litigation with regard to most of these areas. He isan expert negotiator who uses his cordial nature and easy-going attitude to work closely with op-posing counsel to find resolution to his client's legal problems. He is a successful trial attorney butnevertheless works hard to settle his cases before trial. As a former teacher, Mr. Wintle educateshis clients so that they can be realistic with their expectations and have a clear understanding ofthe litigation process and its costs, both financial and emotional. Mr. Wintle is well respected andadmired among clients and opposing counsels.
Mr. Wintle's expertise and good nature has led him to be sought after by clients and other attorneys as a mediator to resolve cases prior to trial.
Mr. Wintle understands the financial and emotional toll litigation can have on clients and thereforeworks hard to settle as many of his cases as he can to the satisfaction of his clients.
Mr. Wintle has previously served as President of the Board of Directors of the San Jose State University Alumni Association and the Greater San Jose Hispanic Chamber of Commerce, was a con-tributing author to Broker-Agent Magazine, part-time instructor at West Valley College ParalegalProgram, and speaks regularly to real estate brokerage firms on topics relating to annual legal up-dates, risk assessment and risk management, broker compliance, and real estate transactions ingeneral.
Areas of Practice:
Acquisitions

ADA Access Defense

Arbitration

Asset Purchases

Brokerage Compliance and Broker/Agent License Defense

Business Formation and Transactions

Business Litigation

Civil Litigation

Commercial & Residential Sales

Commercial Contracts

Construction Transactions, Litigation, and License Defense

Corporate and Securities

Environmental

Estates & Trusts

Financing & Dispute Resolution

Formation

Technology Transactions

Intellectual Property

Leases

Mediation

Negotiable Instruments

Neighbor Disputes

Operational Matters

Partnerships and Limited Liability Companies

Private and Public Syndication

Private Offerings

Probate

Purchases

Real Estate

Research and Development Agreements

Sales of Business

Technology and Software Licenses
Education:
University of San Diego School of Law, San Diego, California, 1982 San Jose State University

University of North Dakota

University of Bridgeport
Professional Associations and Memberships:
Past President of the San Jose State University Alumni Association and Former Board of Directors

Past Director of the Greater San Jose Hispanic Chamber of Commerce

Past President of San Jose Toastmasters Club.

Past Director of the American Heart Association, San Jose Chapter

Current Member of the Santa Clara County Association of Realtors